The Joulupukki TV video, "Pello, Fishing Capital of Finland" has been selected for the official programme of the International Tour Film Fest. This short film festival, held in the region of Rome from October 4 – 8, is one of Europe's leading events in the field.
Only 16 works were approved in the tourism video series, and Pello's fishing tourism video is the only Finnish production to qualify. Joulupukki TV produced the travel video for Travel Pello (www.travelpello.fi/en) .The video was produced and directed by Tommi Lappalainen, with Juha Paitsola behind the camera.
Pello's video images were taken in the summer of 2016 in cooperation with the Naamisuvanto Salmon Fishing Resort in Tornio River (www.tornioriver.fi) and Lapland Wild Fish (www.laplandwildfish.fi) at Lake Miekojärvi. The production received funding from the Outokaira LEADER program.
Mika Rinne, tourism officer of Travel Pello, speaks of his anticipation of the Italian film festival in the beginning of October. No matter how well the Pello video succeeds in the festival, having been chosen for the official competition series is a great achievement in itself, says Rinne. Tommi Lappalainen, CEO of Joulupukki TV, says that it is wonderful to receive international recognition for the company's first large fishing tourism video production. Tourism to Lapland is well-known around the world for the Northern Lights, snow hotels, glass igloos, and videos of Santa Claus, which are very popular on, for example, YouTube and Facebook. In the future, Finnish Lapland will become more popular due to the fishing videos, as Finland has only just scratched the surface of the international potential for fishing tourism, says Lappalainen.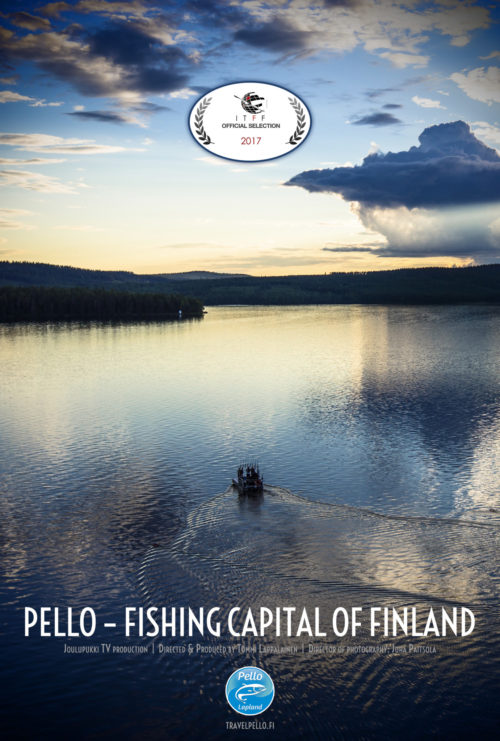 Official festival movie poster of "Pello Fishing Capital of Finland" video
For more information about the selected works and the Italian film festival:
http://www.internationaltourfilmfest.it/index.php?option=com_content&view=article&id=268&Itemid=219&lang=en
"Pello, Fishing Capital of Finland," has been viewed tens of thousands of times throughout the summer of 2017 on Facebook and YouTube. For the English-language versions of the video:
https://www.facebook.com/travelpello/videos/1318710061582241/
https://www.youtube.com/watch?v=V6BnAotGBxI