ANNIVERSARY VIDEO: Joulupukki TV – 20 years of video and television history from  Lapland
JOULUPUKKI TV TURNS 20 YEARS OLD!
Rovaniemi-based audiovisual production company Joulupukki TV will turn 20 as the year comes to an end. The company was founded in the latter half of the year 2000 by Finnish Tommi Lappalainen and French Bernard Giry, as well as a small group of shareholders. Lappalainen is currently CEO of Joulupukki TV, as Giry moved onto other projects due to family reasons. Joulupukki TV is best known for the Santatelevision Youtube channel, www.youtube.com/santatelevision, enjoyed every year by tens of millions of children and lovers of Christmas around the world. The company was originally founded and centered around Santatelevision's Internet TV, and Santatelevision successfully moved to Youtube in 2010.
Joulupukki TV has grown into much more than just an internationally successful  Santatelevision Youtube channel; over the years, the company has developed into one of Northern Finland's leading video service providers (www.youtube.com/joulupukkitv), and as of 2018, an innovative drone filming company. Additionally, Joulupukki TV is involved with several international television productions each year, both as a service provider and a partner. Joulupukki TV has developed its own products for television and SVOD services. Currently, the company is developing, for example, a mini-documentary series called RoPS vs COVID-19 (RoPS is the local football / soccer team of Rovaniemi), as well as the international adult comedy streaming series Kilvo Elf  with Luxembourgish Wady Films.
Check out our fun multimedia presentation of the company's 20 year history, which we created in honor of the anniversary, as the current COVID-19 situation precluded any physical celebration.
We would like to warmly thank all our employees, trainees, customers, and our company's partners for their cooperation, and of course, all the viewers of our productions over the last 20 years. This is just the beginning of new delightful productions. Hopefully we can get together for our 30th anniversary!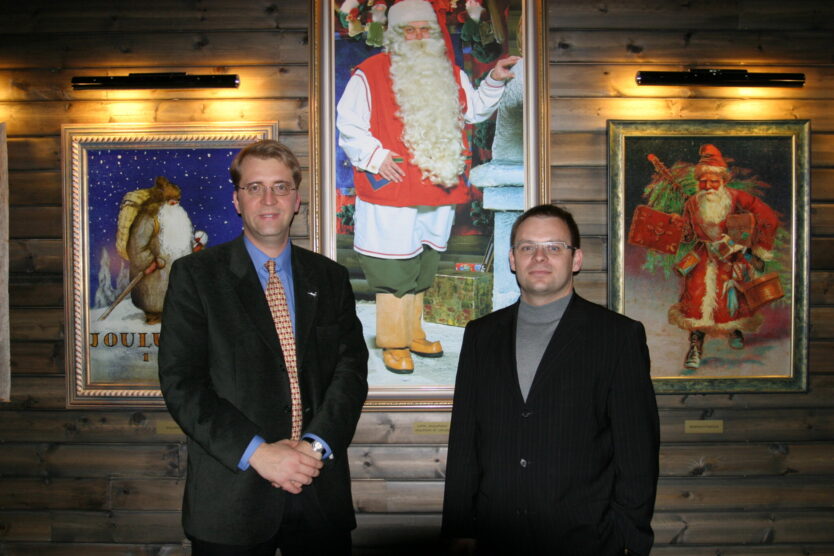 Joulupukki TV's founding members Tommi Lappalainen (left) and Bernard Giry in Rovaniemi in 2005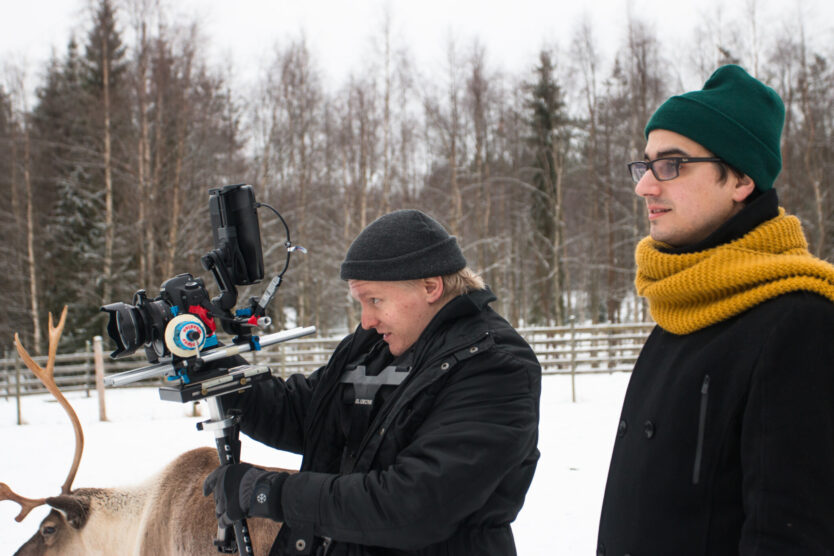 Joulupukki TV's long-time production manager Juha Paitsola (left) and Nuno Escuidero, who worked for the company 2012-2016. Escuidero directed "Reindeer of Santa Claus" in February 2015, which has received tens of millions of views. Escuidero later became internationally acclaimed documentary director.
Joulupukki TV CEO and producer Tommi Lappalainen says that he does not regret his decision to become an entrepreneur.
–There are rarely dull or routine working days in the company, and thanks to Joulupukki TV, I've worked with interesting companies and people, as well as visited exotic locations, says Lappalainen. However, running a small production company is not all roses, he continues.
– For example, we never could have imagined that the international breakthrough of Santatelevision would take 15 years. The original business plan in 2000 accounted for three years, he says with laughter in his voice.
– In addition, our company is strongly linked to Lapland's tourism ecosystem, and as such, we've also suffered when tourism suffers. Like during the economic crisis in 2009-2010 as well as the current COVID-19 pandemic.
– Coronavirus hasn't yet brought this company to its knees, says Lappalainen. Although COVID-19 has made a huge dent in Lapland's tourism, and made it more difficult for AV productions both in Finland and Europe at large, it has fortunately also offered Joulupukki TV some new business opportunities, for example, on the front lines of live broadcasts and virtual presentations of tourist destinations. The company has received financial support from Business Finland and the Centre for Economic Development, Transport and the Environment's support for business development in the face of COVID-19. This support has had the greatest impact on the fact that our expertise has been refocused on the new needs arisen in the market, says Lappalainen.
CLOSE HISTORICAL COOPERATION WITH THE UNIVERSITIES OF LAPLAND
Also worth mentioning in the history of Joulupukki TV is that over the years, the company has had a number of extremely talented young employees and trainees who have gone on to wonderful national or international success elsewhere. For example, our company fostered Rovaniemi intern Jussi Hiltunen, who went on to direct, among other things, the film Law of the Land (2017) and episodes of Bordertown (2016), as well as production manager Nuno Escudeiro of Portugal, the acclaimed director of, among other things, the Valley and other documentaries. Joulupukki TV, located in the university town of Rovaniemi, has been an interesting springboard for many talented people. Throughout its history, the company has worked closely with the University of Lapland and the Lapland University of Applied Sciences. Without these educational institutions in Rovaniemi, it would hardly be possible to run an international AV company, says Joulupukki TV CEO Tommi Lappalainen.